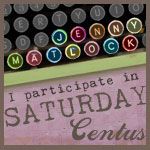 The Saturday Centus challenges us to write a piece within 100 words, based on a prompt. I encourage you to jump aboard. It's great practice, and I've met wonderful peers this way. Plus, Jenny's our favorite teacher.
I'm afraid I'm still trekking. I'd like to get Spock out of this mess, but the prompts (as bolded below) just keep him entangled. Thus, here's a sequel to the last
one
.
Sorry.
Don't Bring on the Cling-ons!
"*Bleep!* Spock!" Rita exclaims, tossing the jammies at a dwarf black hole.
"I can't do cling-ons. I've got too much to achieve. Like,
I'd like to teach the world to sing,
and enjoy fine jewelry, and I wanna appear on Lenova and stuff - be a shooting star. You know?"
"Ascertain calm and logic, Lohan. Correction, Rita. With your credentials as a Lieutenant-Colonel-Nurse-Practitioner-Phlebotomist-Maid-Assistant Janitor, you shall progress when clinging terminates."
The camera zooms in on an unconvinced Spock - first, in the video; next, in real life. (Note: This is a documentary.)
"The End" crosses the Stars Are Us screen.